So i have been using TOTS Silva a a RW in 433(4), after playing the whole gold cup with him, as 6 chem didnt even hit 7 chem cuz he didnt play 10 matches yet, he was extraordinary!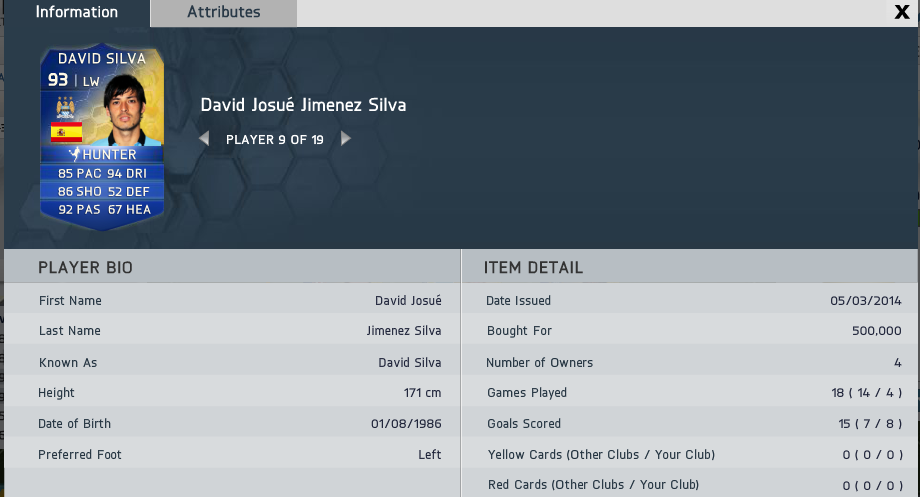 4 Games 8 goals as a RW , tbh i don't think he would work as a LW maybe LM , btu i though RW would fit him the best!
Lets start with the Positives:
1) pace: He lives up to his pace, maybe more outpaced players like clichy for some reason and that is enough for me.
2) Shooting: His left foot is deadly! , also his finesse shots are awesome, and that curve is beautiful! , as for show power sometimes tis really powerful, sometimes its not but most of the time it is
3)Dribbling: And again one of the best dribblers on the game, nothing more to say but his agility balance is awesome
4) Work rates : High/Low perfect for a winger
5)Passing: Obviously has passing is great nothing more to say

As for negatives :
1) Heading: To short to win headers although he won couple, but lost most.
2)Weak: Not always weak! but sometimes he is
OVERALL: Im giving silva 9.8/10 , been amazing since i tried him, 4 games 8 goals and 5 assists , don't think i want anything more tbh
( Don't forget I used him as a RW)
Thanks for reading,Loly0s.
Elite





Posts

: 4331


SF Points

: 64002


Join date

: 2011-09-06


Location

: Cairo,Egypt


PSN ID

: loly0s


Gamertag

: loly0s




---
Permissions in this forum:
You
cannot
reply to topics in this forum