Riccardo Montolivo Review
Cost: 1,200 coins
WF: 4
Skills: 2
Workrates: Med/Med
Traits: Long Passer, Long Shot Taker,
Squad I use in: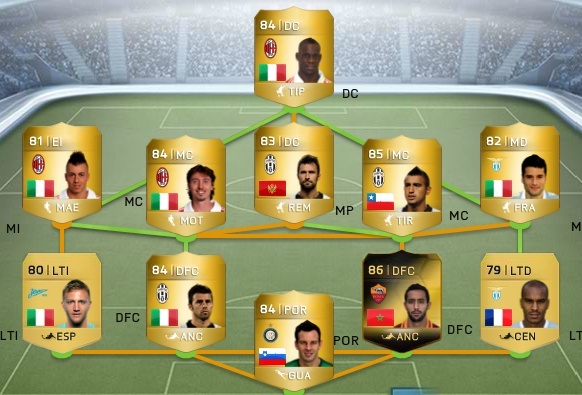 " />
Performance: 150 games, 41 goals and 60 assists
Pace: 68
He's not flashy, but he doesn't need to as a CM, and doesn't feel that slow IG, I put an engine chemistry card on him that gives a +2 boost
Dribbling: 80
His dribbling is enough to give you some space and make that pass or shot, with his high stats (passing and vision) you just need a little room to the ball pass through. The 2 stars skills might be a letdown for the skillers, but have great ball control
Shooting: 77
Here is where he excels, 77 doesn't reflect the shooting, just look this stats 80 curve, 85 long shots and 86 shot power and the Long Shot Taker trait as a bonus. If you have a little space with Monto, just shoot to goal, the keeper will have to do a great work to not let the ball in. His right foot is a rocket and with 4 stars weak foot you don't need to worry which one you shot. I've made some nice 40+ yards screamers with him, both right and left foot and some easy goals after the keeper can't deal with a Monto shot.
Defense: 71
If you want a CM that can stole some balls in midfield and make an instant opportunity from this, this is your man, with his M/M workrates you always have him in position to recover the ball in a counterattack or disarm your opponent's gameplay, his 85 reactions are great in terms to gain some lost balls or an opponent bad pass
Passing: 87
He's really accurate and creates a lot of opportunities for your strikers, especially in long passes and through balls this man is deadly, he'll put the ball in your striker's feet and he just have to pass it to the net
Heading: 63
You don't have your CM fighting aerials in the box, but this is enough for the rebound opportunity or win a header in midfield to recover the ball, even when his stats are not higher, the height helps (181cm | 5'11")
Pros:
Great passing, excellent long shots, he can defend and make a key pass immediately, nice workrates (M/M)
Cons:
If you need a pacy midfielder, is not for you. His strength is a bit inconsistent and can be pulled away of the ball, but rarely gets to the ground. 2 stars skills is a letdown for those skiller players.
Rating:
I'll give him 9 out of 10 because the lack of pace and 2 star skills, otherwise he's a round midfielder, excellent long shooter and better passer. And you can have him for just 1.2k which is a bargain for such a class player.
Hope the review is good enough. Feedback is appreciated.
Elite





Posts

: 670


SF Points

: 231814


Join date

: 2013-11-08


Location

: Mexico


PSN ID

: evilcaterpillar



Great review.
Moved to the Player Reviews section/25k SF Points added.
Owner





Posts

: 9465


SF Points

: 1090386


Join date

: 2011-05-30


Location

: Scotland



Elite





Posts

: 670


SF Points

: 231814


Join date

: 2013-11-08


Location

: Mexico


PSN ID

: evilcaterpillar




---
Permissions in this forum:
You
cannot
reply to topics in this forum