Preface
Some of you may know me from these forums and know that I'm no the greatest player FIFA community has ever seen. I've had plenty of humongous losing streaks and then some winning  streaks. So that being out of the way, let's see how I broke out of my losing streak taking me from division 2 to division 6 and back to division 2 and apparently to division 1.
I've tried every single formation in this game apart from 5ATB, which I refuse to use. Some formations have been good, such as 352 and variations of 433, especially 433(3). The problem I had with formations was that they worked only briefly. Got some good winning streaks but they seemed to stop working even after 10 or so matches. Then I decided that I have to choose one formation and stick with it no matter what.
Enter 4-2-3-1 (2)
This was the first formation I tried in FUT14. While it was okay, I felt that I wasn't the best at using LM and RM. They were always isolated and never got them involved in play. Felt like I was playing with 8 players + GK.
These are my squads at the moment.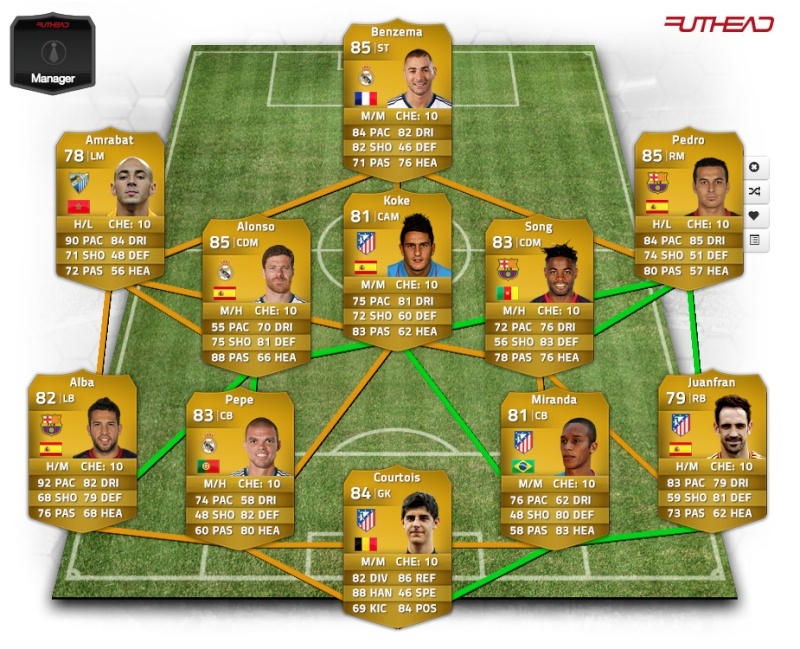 Player roles and work rates
It seems to me that work rates do matter in this formation and my style of play along with custom tactic.
Striker
The Big Guy. The Head Honcho and The Big Cheese. This guy scores most of your goals. Your striker needs to be an all rounder. Good shooting, finishing, positioning, strength and preferably with 'tries to beat the offside trap'-trait. Pace is not awfully important but of course a bit of pace helps. 75 pace is enough and you can probably manage with even less. It doesn't hurt if your striker has good passing too to connect with the CAM.
Your striker must have work rate of Medium/Medium or Medium/Low. I prefer M/M because he will be more involved both ways.
LM and RM
These guys attack and make killer runs. They must have High/Low work rates. You can also get away with one H/L and other H/M. Good options are for example Mertens, Gervinho, Cerci, Nani, Jarvis etc.
CAM
Your CAM is the one that makes things happen in the attacking end. His work rates should be M/M or H/M. With these work rates he will not be far from your striker at any point and isn't far away from CDM's either. And sometimes he's the one finishing chances. He needs good ball control, passing, shooting. Pace is not important. Hernanes, Hamsik, De Bruyne and the likes work here. 4* skills and WF help here enormously.
CDM
Just go ahead and pick CDM's with M/H work rates. They are here to defend so pick players that are good in that. Ideally they are big guys with good defending and heading stats with good strength. Basically De Rossi, Jones, Yaya, Sandro etc. It would also be good if they are good at passing. One of them will occasionally run forward while the other one stays back to cover up.
LB, CB, CB, RB
Standard stuff. I like my fullbacks to be H/M so they overlap wingers sometimes, but still run back to defend. Pace helps here enormously so I would pick fast players without any intention to be sweaty at all. You can defend well with Abate too even though people say he's just pace. Not true. I do like Enrique and Maicon as well even if they are not that fast.
GK a.k.a. Mr. Butterfinger
Really doesn't matter much, go crazy and pick someone large.
The Custom Tactic
I've tried so many formations and so many tactics, I begun to believe that custom tactics offer nothing but placebo-effect. Fortunately I now have the right formation with the right tactic. Of course what works for me does not necessarily work for you. But this is the custom tactic I've used in past 30 matches or so and it works.
How to play
To be good with this formation and tactic, you need to be a real pass-whore. You have to be really patient with attacking as well as defending. Don't rush into anything and don't lose the ball in the center of the pitch to avoid being countered to smithereens. Anyway like I was saying, you need to pass a lot. Look for triangles and one-two's everywhere. If you don't see a good passing option going forward, then pass the ball back to defender and to your keeper if you must. In many matches your opponent is using high pressure, so you can't be blamed for passing back.
Your striker will at some point make that crucial run forward if you build up your attack with patience. Also look for your wingers to make runs, those boys attack. Try to play a lot through your CAM, he's the passing master, or should be.
If you're being pressured really hard, you should switch sides a LOT with loooooong passes, for example from your LB to RM, who is probably going towards opponent's goal with his H/L work rates :)If one side is pressured hard, the other side is completely empty for you.
I have at least 65 % possession in matches now and passing accuracy is ALWAYS over 80 %. I get a lot of hate messages after matches for being boring, but it's not boring if you're into football instead of Pacman.
Last edited by GunOfNavarone on Sat Mar 08 2014, 06:45; edited 2 times in total
Elite





Posts

: 1225


SF Points

: 139907


Join date

: 2013-03-19


Location

: Northern Europe


Gamertag

: johntempera



Nice formation guide.
I've moved this to the Miscellaneous Guides section and added 25k SF Points.
The only little thing to fix is the custom tactic image, it doesn't work for me.
Owner





Posts

: 9465


SF Points

: 1090386


Join date

: 2011-05-30


Location

: Scotland



That's odd. Whenever I played this formation I noticed my LM/RM got tons of opportunities on goal but yes, the striker got almost all the goals. Though I did use Honda there with his H/L work rates and he was absolutely amazing.
Elite





Posts

: 5233


SF Points

: 377018


Join date

: 2013-05-05


Gamertag

: Brochacho Dos




---
Permissions in this forum:
You
cannot
reply to topics in this forum